Seminyak, Bali
Seminyak is a quiet city sitting just along the famous Kuta Beach in Bali, welcoming you to serene, pretty beaches. The lack of tourists here makes this a perfect vacation spot for you and your significant other, or a relaxing time out with friends. People interested in surfing can rent a board and enjoy the tall waves, or simply go snorkeling or sunbathing in the summer.
Other than the beaches, you also get to experience a myriad of bars and cafes running along the coastlines, giving you the luxury of choice. Most restaurants have resident foreign chefs, letting you taste the flavors of the world at Seminyak beach. The nightlife is relatively tamer, though – so if that's what you're shooting for, Seminyak might not be the best place for you.
Must-Do Things
Experience an exciting twist to traditional clubs – beach clubs
Taste different foods and the famous revolver coffee at Revolver restaurant
Go scuba diving with experts
Visit the Nyaman Gallery
Go horse riding at sunset
Ubud, Bali
A visit to the cultural capital of Ubud will contrast against the beaches of Seminyak, giving you opportunities to experience colorful art galleries, museums, and religious temples. The Royal Palace at the center of the town will present you with a sight to behold. All the cultural attractions shine against the jade-hued rice fields.
Vegans and vegetarians are going to have a blast here, getting to enjoy a wealth of healthy restaurants and upscale dining. Want to go for a refreshing bath? Head to the sacred bathing waters of Tirta Empul, and see the elegant Balinese dance performance after that leave the world of technology behind for a while.
Must-Do Things
Dine at Locavore for a fantastic meal laced with ingredients of different countries in one plate
Head to the Campuhan Ridge during the day or near sunset
Experience the 'threads of life' at the Indonesian Textile Arts Center
Explore the Puri Saren Palace for a marvelous experience
Gili Islands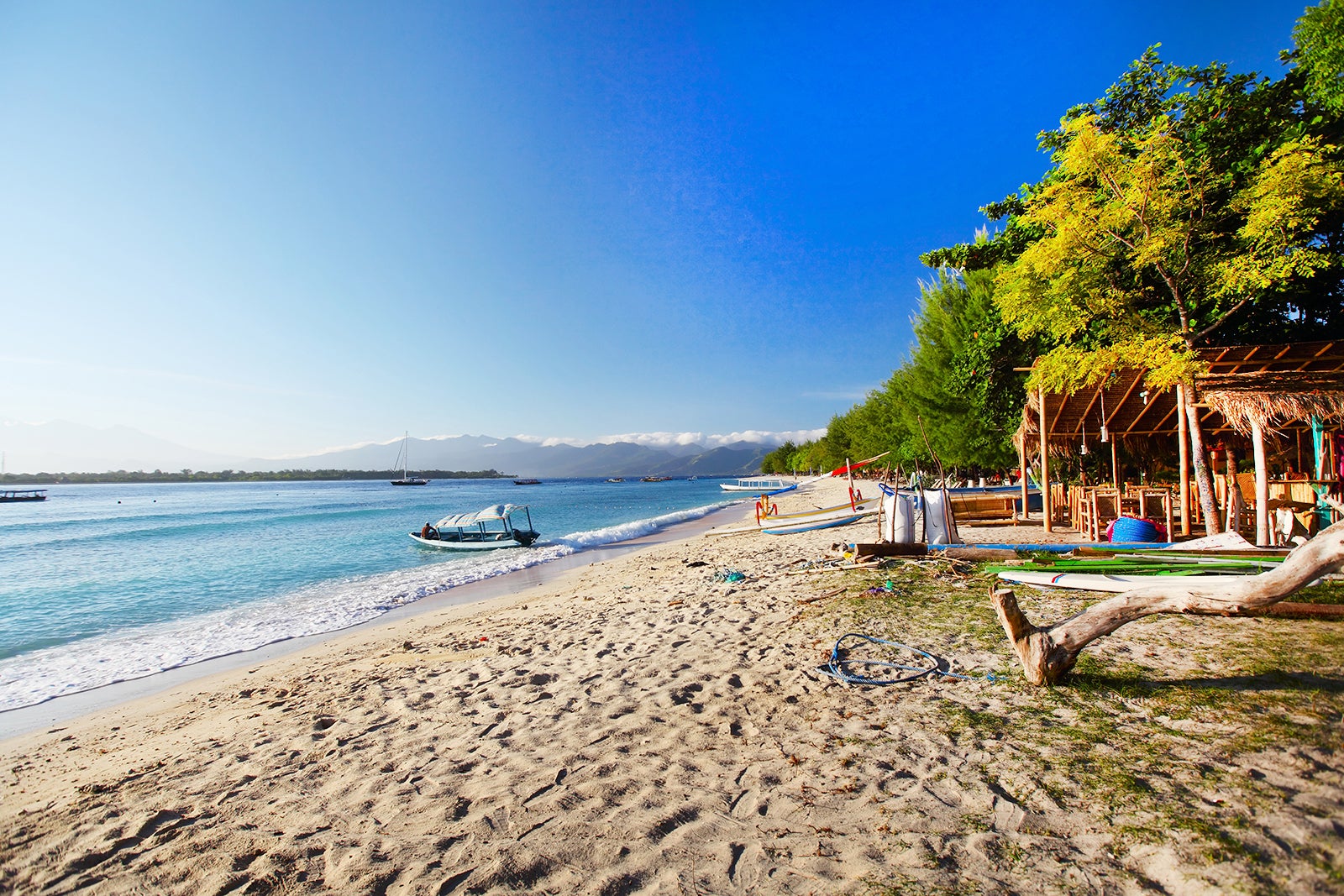 For a fantastic view of gorgeous coral reefs and a diverse marine wildlife, head to the Gili Islands in Indonesia. If you're an avid lover of sea life, you simply can't go wrong with a refreshing swim on the beaches of Gili Trawangan. You'll see more than a few turtles here!
Gili islands are a haven for photographers, especially near sunset. Fill your Instagram feed with shots of this beautiful place and see how people commend your photography, even if you're just starting off! The nights aren't quiet at Gili Trawangan. There are plenty of things to do and great cuisine to experience.
Must-Do Things
Explore the underwater – go snorkeling or scuba diving
See nature at its – visit the beach near sunset
Give your tummy a treat at the night market
Go on a booze cruise and see the flying fish and dolphins in all their glory!
Nusa Islands
Although mistaken for being as part of Bali at times, the Nusa Islands form a separate regency. The Nusa Lembongan, Nusa Penida, and Nusa Ceningan are Padang Bai in Bali, and offer gorgeous sandy beaches and green hills to dive off of.
When tired of all the tourists, simply go climb a hill and enjoy the vivid wilderness contrasting the blue seas. Trekking has never been this much fun as in Nusa Islands. Not every beach is littered with tourists, though – you can get a lot of 'me' time at numerous beachs such as the Nusa Ceningan. You can go all "Cast Away" there if you want! In fact, Eat Pray Love (2010) and many other movies were shot at one of these beaches!
Must-Do Things
Go for a walk in the seaweed farms – eat some while you're at it (make sure farmers don't see you, though!)
See the sea from the skies from the Abyss Zipline
Go hiking at the Tembeling forest
See the birds at the Friends of the National Park Foundation